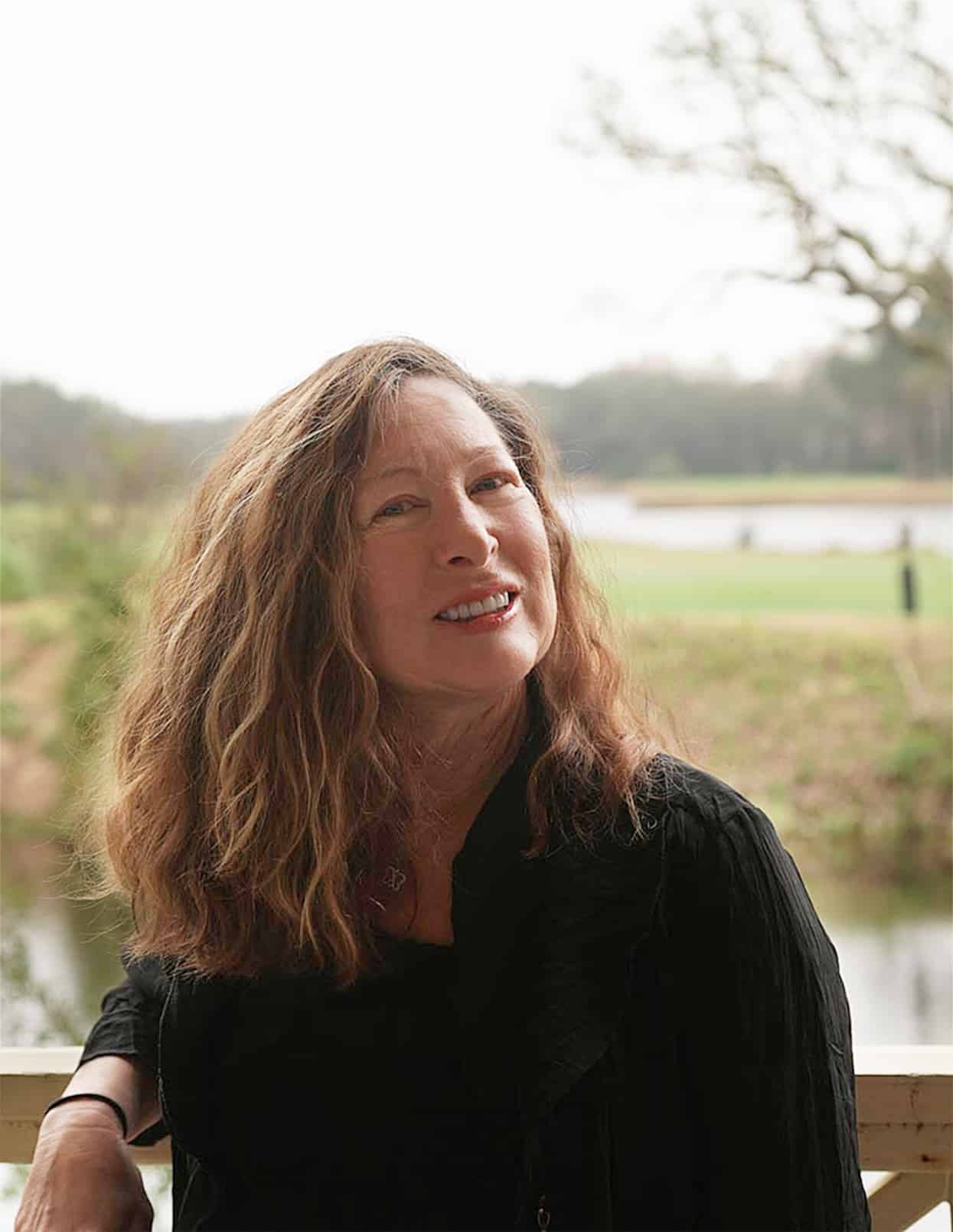 Pamela Laurence has dedicated her life to teaching and inspiring others to becoming their personal best. As President and Founder of Face Your Self®, Inc., Pamela has developed coaching and transformational programs for both businesses and schools throughout the U.S.
Inspired herself by years spent in nature, Pamela created Face Your Self® as a way for people, young and old, to come to know their true nature – joy and happiness.
Pamela's experience, which includes a BS and MS degree in Education and Instructional Technology, spans over 35 years as a holistic/lifestyle educator in the arts, yogas and feng shui.
Pamela holds certificates in the study of The Science of Mind under Stuart Grayson; hatha yoga with Swami Satchidananda; meditation, self-analysis and the yogas with Rammurti S. Mishra, Gurdjieff work with Andre Enard, and feng shui with Professor Lin Yun.
In 1999, she founded The Mountain Institute of Tribeca, a school offering multi-cultural programs in geomancy, feng shui and healthy living. She is a highly regarded freelance writer for many newspapers and magazines including the New York Post and House Magazine, where her column, Go With the Flow is published bi-monthly.
Pamela is a sculptor and painter whose work is displayed in many private and corporate collections, including the Clinton White House. She resides in both Vermont and Arizona where she writes, teaches, consults, paints, plays tennis and sips the nectars of life. With her natural beauty, grace and inner peace she truly is an inspiration to us all.
---
HISTORY
SOLO EXIBITIONS
1994 African Intent, Center for Successful Living, NY
1993 Nests, Planting Fields Arborieum, NY
1993 Sculpture, Port Jefferson Library, NY
1993 Sculptures in Rattan & Metal, Shelter Rock Library, NY
1993 Basket Sculpture, Garden City Library, NY 1992 Woven Sculpture,s. Huntington Library, NY (curated, Alfred Van Loen)
1991 Wall & Ceiling Sculpture, Sophies Restaurant, St. James, NY
1991 Sculpture , Huntington Township Art League, NY
1990 Sculpture & Wall Hangings, Cadeaux Gallery, Northport, NY
1990 Windows, Made in Europe Project, Huntington, NY
SELECTED GROUP SHOWS
2017-present Amelia Island Artists Guild Gallery, Amelia Island, FL
1994 20th Cent. Contemporary Amer. Art, Art Forms , Red Bank, NJ
1994 Progress for Women, Christie's East, NY, NY
1994 Largely Landscape, Gallery Emanuel, Great Neck, NY
1993 OUTDOOR SCULPTURE '93 OIA, Ward's Island, NY, NY
1993 Fabulous Fakes, Goodman Design Gallery, Southampton, NY
1993 New York New Work, Bromfield Gallery, Boston, Mass.
1992 Amos Eno Group, Amos Eno Gallery, Soho , NY
1992 Juried Art, East Islip Arts Council, Oakdale, NY (sculpture award)
1992 2 x 2, Amos Eno Gallery, Soho, NY
1992 The Expert Eye, Sabbeth Art Gallery, Glen Cove, NY (juried by Phyllis Braff & Dr. J.Collisschan)
1992 Panoply of the Arts, Greater Port Jefferson Arts Council (invitation)
1991 8th Annual Juried Art, Arts Council East Islip, NY (Sculpture Ribbon Award)
1991 STAC'S Winner'91, St. James , NY (juried, Bernice Steinbaum)
1990 Multi Media Art Forum & Exhibit, Sands Point Preserve, NY (juried show)
1990 International Group Show, Gelabert Studios, NY
1990 Four Person Show, Ariel Gallery, Soho , NY (juried show)
1990 Convergence '90, SanJose Convention Center, SanJose, CA (juried show)
SELECTED INSTALLATIONS/COLLECTORS
The White House, Wash. D.C., Christmas Tree, 1993
Art Today Magazine, Wichita, KS
Dan Klores Associates, New York, NY
Loren Michaels, East Hampton, NY
Paul Simon Studio, New York, NY
Kerry Kennedy & Andrew Cuomo, New York, NY
Kiaser Aluminum
Decilog Inc. , Melville, NY
Davidson's Aluminum
HILTON HOTEL, Woodcliff Lake, NJ
Dolmus Design Center, NY, NY
Ananda Ashram , Monroe, NY
AWARDS & HONORS
1993 Scholarship, Drew University West African Art in Mali
1993 Special Opporunity Stipend, sos, New York Foundation for the Arts and The East End Arts Council
1992 Sculpture Award, Arts Council of East Islip, NY
1991 Sculpture Award, North Shore Art Guild
1991 Sculpture Award, Gallery North, 26th Annual Art Show
1991 Sculpture Award, Arts Council of East Islip
1990 Sculpture Award of Recognition, Mills Pond House
1990 Mildred Willcuts Award, Washington Square Outdoor Art Exposition
1990 Competition 10, Ariel Gallery, NY
RELATED EXPERIENCE
1992-Present, Chairman, The Huntington Township Art League Village Green Arts Festival (Approx. 200 artists)
1992-Exhibit Chair , LICG, Long Island, NY
1990-Present – Community Out-Reach Programs:

Teach and Lecture – Selected List:

AMERICAN CRAFT MUSEUM , Basketry, 1994
Yeshiva University Museum, NYC, Ethiopian Coil Baskets
Brookfield Craft Center, Conn. , West African Art, 1994
FIT –Marketing Your Art
ORT – Working with Natural Materials
Huntington Historical Society
Shoreham-Wading Middle School-Artist in Residence'90
Libraries throughout Nassau & Suffolk
Bayard Cutting Arboreum
Huntington Township Art League

Sculpture , Recycled
Techniques in West African Art

The New York Botanical Gardens
Rockland Center for The Arts, Africian Art, 1994
Jamaica Arts Center, Jamaica, NY, Africian Art, 1994
The Open Center, NY, NY, 1994

1990ーPresent THE PAMELA LAURENCE COLLECTION

President: Artist of Functional and Decorative Sculpture and Craft
Lecture, develop learning programs, exhibits Sell to Architects, Designers, galleries and stores National and International

Including Selected List:

The American Craft Museum, NY
EXIT ART The First World, Soho, NY
Trove Collection, Palm Desert, Calif.
Domus Design Center , NY, NY
Musart, Port-Au-Prince, Haiti
Art-Mine, Toronto, Ontario
Bagaille, Chicago, Ill.
Wear for Art, NY, NY

Trade Shows:

ICFF, Javits, NYC 1992-Present
The NY International Gift Fair, NY 1990-Present
American Craft Council-1990-Present
Buyers Markets of American Crafts 1993-Present
BIBLIOGRAPHY
2018 From The Gallery by Barbara Hopkins, South Island Living Magazine, May
1994 ART REVIEW by Helen Harrison, THE NEW YORK TIMES
1993 Letter to the Editor, FYI, Spring Issue
1992 LOST IN WOOD, ART TODAY, Spring Issue
1992 BEAUTIFUL CHAOS, NEWSDAY, April 9th
1991 ART REVIEW by Helen Harrison, THE NEW YORK TIMES, August 18th
1991 BEACHCOMBING FOR HER ART by Eileen Swift, Sunday NEWSDAY, July 14th
1991 HUNTINGTON ARTIST IN SMITHTOWN SHOW, THE LONG ISLANDER, July 18th
1991 AT THE GALLERIES by Sheridan Sansegundo, THE EAST HAMPTON STAR, July 18th
1991 SCULPTURAL OBJECTS, NEWSDAY, December 20th
1989 AROUND TOWN BIRD NESTS FROM OUTTER SPACE, NEWSDAY, December 3RD
EDUCATION
1970 FINCH COLLEGE, ART HISTORY
1971-72 MARYLAND INSTITUTE, FIGURE DRAWING & SCULPTURE
1974 GOUCHER COLLEGE, B.A., Education
1975 TOWSON STATE UNIVERSITY, M.S.
1977 NEW YORK UNIVERSITY, PHILIP PAVIA, MARBLE SCULPTURE
1991 STEVE SOLOMON, FIGURE SCULPTURE IN CLAY
1993 DREW UNIVERSITY IN MALI, AFRICA, WEST AFRICAN ART
SHOWCASE
---
Pamela has had multiple pieces of art displayed in The White House.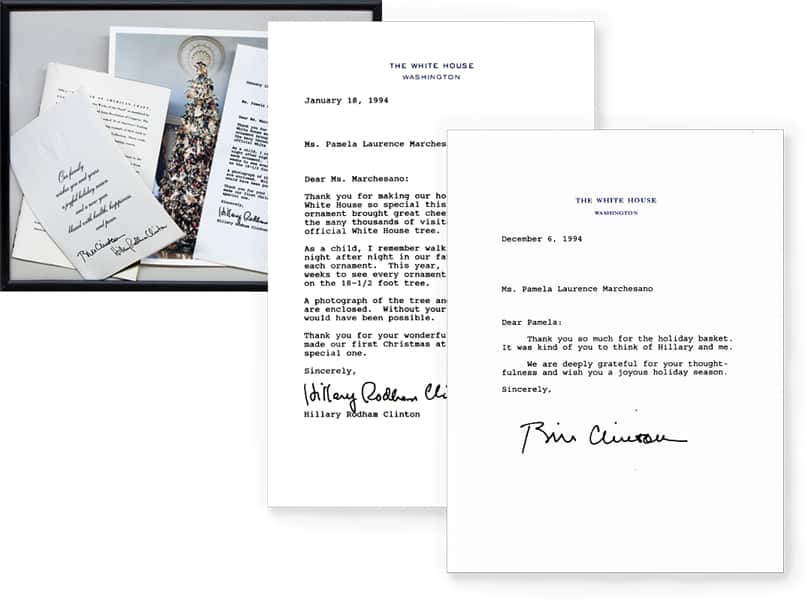 ---
Pamela was recently featured in the South Island Living magazine.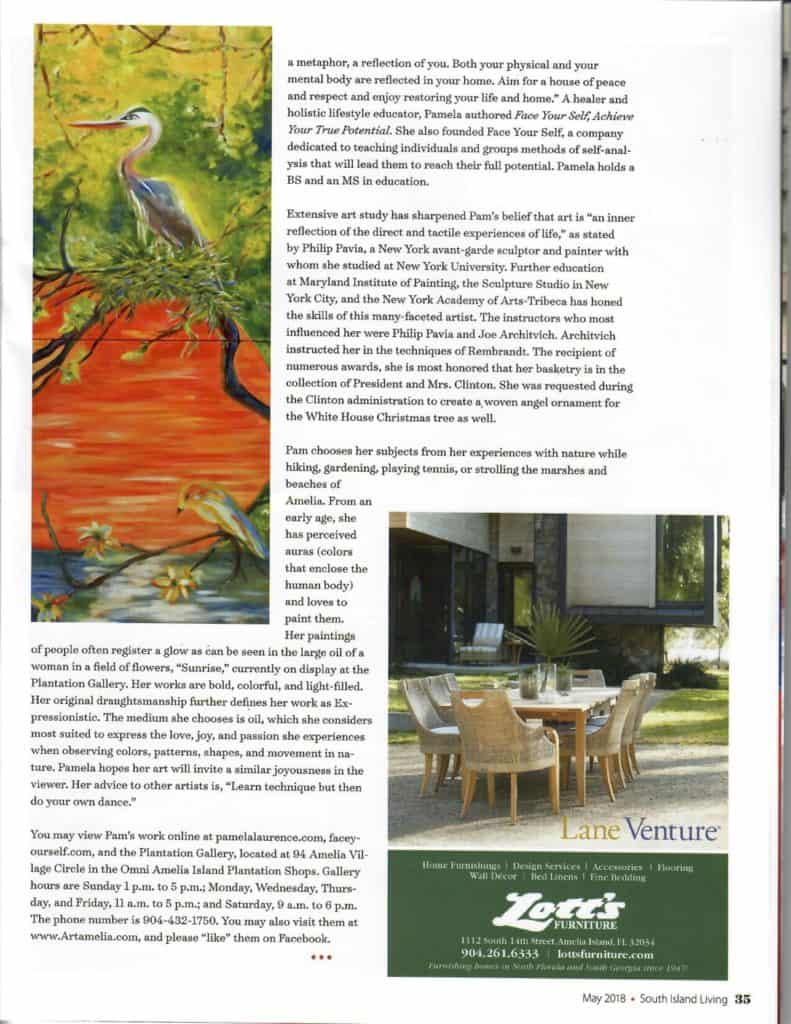 ---
Pamela has also been featured in magazines for her Interior Design and Feng Shui expertise. In the image below she was featured in Home magazine for the Interior Design of her own New York Bungalow.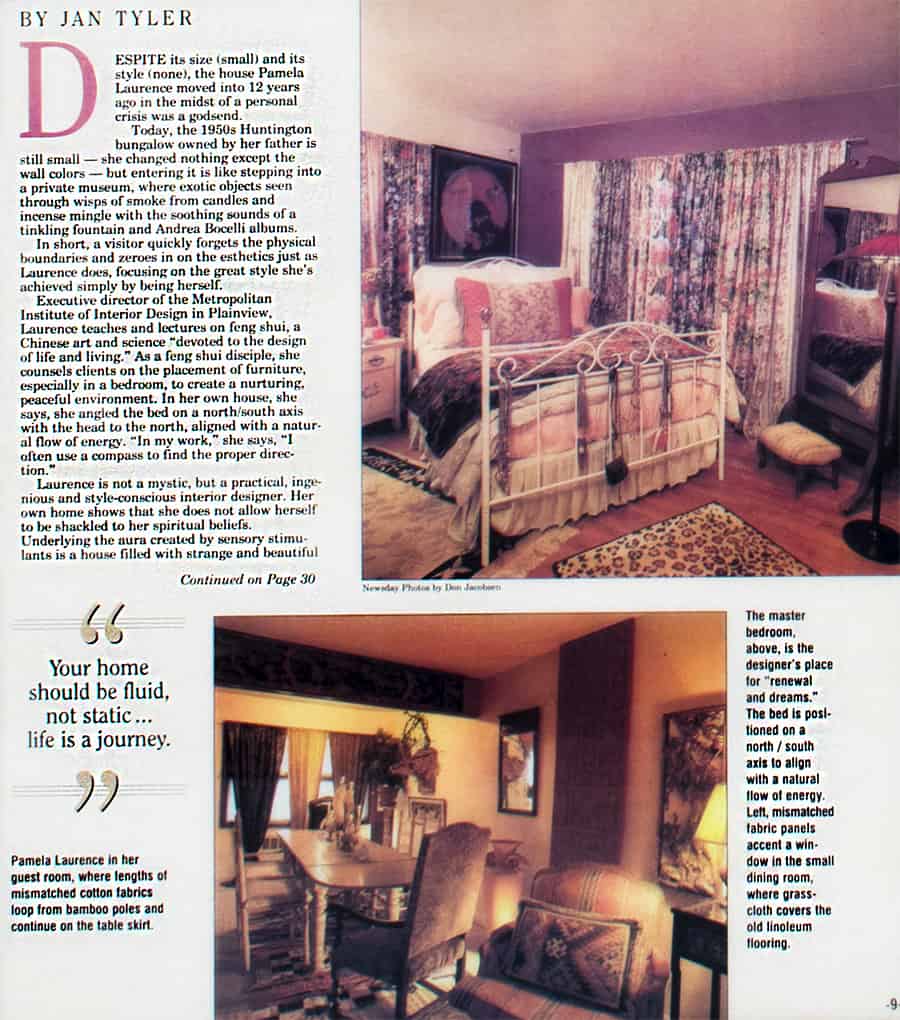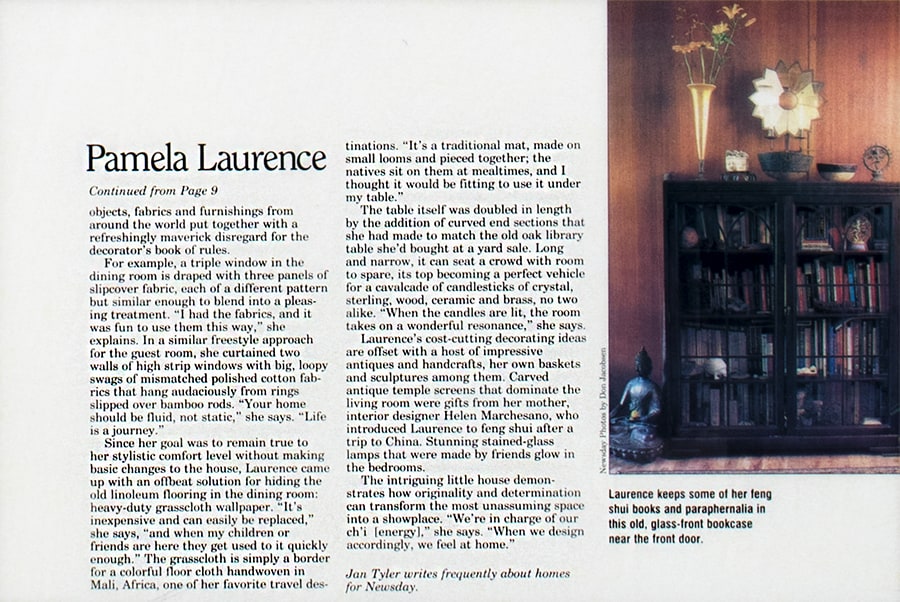 ---
Pamela has been showcased for her sculptural objects in the book, The Guild: The Designer's Source of Artists and Artisans.